Featured Artist - Carol Mell
May 2023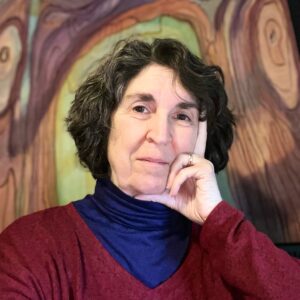 Please introduce yourself and describe your background
My name is Carol Mell. I have been a choreographer, writer, humorist, storyteller, photographer and painter of the
American West. My motto has long been, "Follow the Dirt Road in Your Soul."
What is your earliest memory of creating art?
Given my motto above I immediately remembered making mud pies with a battered cake pan and spoon in the back yard
of the house out on Mill Creek Road in The Dalles, Oregon. I learned early the deeply satisfying and tactile nature of
playing with dirt. I still frequently add dirt or sand to my paintings.
Describe your primary medium and why you've chosen it for your artwork?
The discovery of beeswax transformed my photography. In my painting I use either molten beeswax (encaustic) or cold
wax medium, both of which combine deliciously with oils. It is important to me that my work have visual and tactile
texture. That is why beeswax ultimately led me out of photography, so I could make paintings that could be experienced
without barriers, that could be touched, handled and even smelled, for the scent of beeswax lingers long after an
encaustic painting is finished.
What other media have you used?
Photography and digital art.
Describe your artwork in 10 words or less
Contemporary "Cave" paintings that explore feelings, the psyche and spirit.
What inspires your work?
While certainly inspired by the earth and nature, particularly images from the microscopic and galactic worlds humans
can produce, in my non-objective painting I am a miner of the mysterious inner life of the soul. I let my body do the
painting and I am inspired by the creatures, textures, marks and colors that spring forth.
What is something most people don't know about you?
I have published stories in three "Chicken Soup for the Soul" books.
What advice would you offer younger artists just beginning their art careers?
Give deafness to your ears, courage to your soul and freedom to your hands to create like your life depends on it because
it does