MARCH 2023
Featured Artist - Carolyn Berry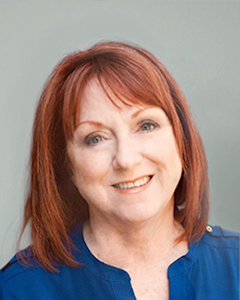 Please introduce yourself and describe your background
I grew up in Kansas but have lived in Ohio, Minnesota, Denver and Alberta, Canada before moving here four years ago.  As a high school teacher in Lawrence, KS, I have experience in numerous art disciplines but primarily taught drawing painting, graphic design and advanced placement in art.  I have also been an admissions counselor/recruiter for the Columbus College of Art and Design.
What is your earliest memory of creating art?
I got in trouble in third grade for smearing my crayons to mix new colors on one of my school Halloween drawings.  The rule breaking started early.
Describe your primary medium and why you've chosen it for your artwork
Encaustic and collage.  I like mixed media layered approaches and choose to combine photographic images, drawing, painting or collage papers to express my ideas.  Encaustic wax is applied when it enhances the image or creates a unique surface texture.
What other media have you used?
I also have a fiber and enameling background and often create encaustic mixed media sculptures from natural materials.
Describe your artwork in 10 words or less
Mixed media art incorporating encaustic and/or collage processes.
What inspires your work?
Nature, vintage papers, rustic or unusual textured surfaces that invoke the idea of memory or the passage of time.
If you could spend the day with any artist, dead or alive, who would it be and why?
Joseph Cornell.  I would love to know how he collected all the objects found in his art boxes and his process of combining them together to tell stories.  He was a recluse and rarely showed his work, so I would try to find out why he lived and created this way.
Do you show your work commercially?  If so, where? 
Currently, I show my work at the New Mexico Art League but have recently had exhibits at the Open Space Visitor Center Gallery in ABQ and at the Placitas Artist Series.
What is something most people don't know about you?
I taught dance fitness part-time for twenty-five years.
What advice would you offer younger artists just beginning their art careers?
Try as many art processes as you can to find your creative passion.  Study with as many artists as you can so that glean tips or processes that would take you years to learn by yourself.
Your website:
www.carolynberryart.com