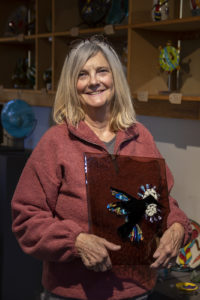 I'm very proud to be representing The Corrales Society of Artists (CSA) Board and membership as president.
CSA began as an informal group of artists to provide an annual studio tour (CAST).  The group has grown to over 100 members and required a formal organization and CSA was born.  We would love to have you become an involved member.
We partner with the Corrales Historical Society that held a virtual show in October 2020 with a remarkable turnout and sales.  CSA will join them again in the Fall of 2021 and Winter of 2021 for more shows.
The annual Corrales Studio Tour will go on; most likely in early Fall 2021.
CSA members are necessary for the success of our endeavors.  We are always looking for volunteers and new members.  CAST cannot occur without our members.
I urge artists to join CSA and discover what the Corrales Society of Artists can do for you and what you can do for this professional community.
Looking forward to meeting you!
Gail Grambling Harrison
President –  Corrales Society of Artists