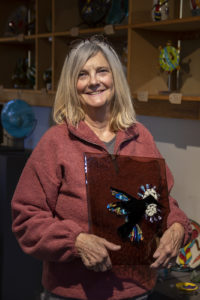 Hi CSA members,                                        July 24,2021
I want to welcome our new members this month, Yoke Roos Huddeston, Paige, Roger, Jonna, Greta, Emily and Elaine. 
Cast is moving forward.  The catalog is at the printer's ahead of schedule.  A very nice piece has been written to include references to short term rentals, B&Bs, and dining places in Corrales.  SouthWestArt magazine is in the process of publishing their August/September edition and the N.M. Magazine will be advertising the Tour in their Sept. issue.
We have 68 artists for CAST.  The Preview gallery will be open to CSA artists, and sponsors at the Casa Vieja on Thursday evening Setp. 9th and opens to the public Friday Sept. 10 at noon and will be open from 10-5pm each day of the event Sept. 11 &12.
We have a new storage locker.  Extra Storage at 1909 Paradise in Rio Rancho.  We will be getting ride of the old lights and panels.  If anyone is interested in cleaning them and looking them over for use, they will be free.
The new panels are ordered and on their way!  Lights will be ordered this week.
Members, in order to be in CAST it is required that you volunteer.  We need road sign volunteers (4-5) to remove numbers and arrows and replace them with this year's venues.  A cleaning crew to clean the brackets and stands for the panels following the fire and volunteers to to distribute postcards and posters to area hotels and businesses.  There are more tasks to be done so I will have a sign-up sheet at the mixer or if you can't make the mixer, you can contact Chip Babb (505-228-5225) to sign up for a task.
Checks for Indea's benefit can be sent to P.O. Box 3717, Corrales, NM 87048.  Checks must be written to Indea Sanchez.
Gail Grambling Harrison
President –  Corrales Society of Artists