Your First Stop: The Preview Gallery
Work representing each participating artist will be on display in the Preview Gallery, where you can peruse the wide range of fine art and crafts, from representational to abstract, oil to pastels, bronze, stone and wood sculptures, metal and glass objects, fiber art, unique, one-of-a-kind clothing, jewelry and so much more. There's something for every taste and every budget! Grab a map and a catalog and head out.
A Preview Reception will be held the Friday afternoon, September 10th, from 1:00 pm to 4:00 pm at the historic Casa Vieja Event Center located in the heart of the Village of Corrales, 4541 Corrales Road.
Casa Vieja was originally built in the 18th century by Salvador Martinez on land purchased as part of the Alameda Land Grant. The Village of Corrales was an attractive location due to the inexpensive farmland, proximity to the Rio Grande River Valley, and rural setting.
In 1941, the Harrington family purchased the empty Martinez house. They immediately began restoring the old building; concerned with preserving the integrity and heritage of the structure. Only five of the original twenty rooms were still intact. Mrs. Dorothy Harrington gave the name "Casa Vieja" or "Old House" to the building.
Many of the additions from this time period still remain like the carved rope trim around the doors and chip carving on the bookcases, flagstone and brick floors installed by Gardetti, (an Italian stonemason), and hand-hewn kiva fireplaces and nichos (crafted by the renowned fireplace builder, Fecho Chavez).
In 1950, Casa Vieja was sold to Dr. Alan Jacobson. He and his family lived in part of the building and converted the rest into a small hospital.
In the 1970s, the building was purchased by the Bentley family and converted into a restaurant. It was a local hot spot for fine dinning in Corrales for many years. Chef Jim White and Chef Josh Gerwin were among some of the previous culinary artists to call Casa Vieja's kitchen home.
Then in 2016, after being empty for an extended period, the Socha family purchased Casa Vieja and after extensive repair and restoration they converted it into the beautiful Event Center it is today.
Casa Vieja is on the New Mexico State Register of Cultural Properties and has a Cultural Historical Designation and plaque recognizing its rich history from the Corrales Historical Society.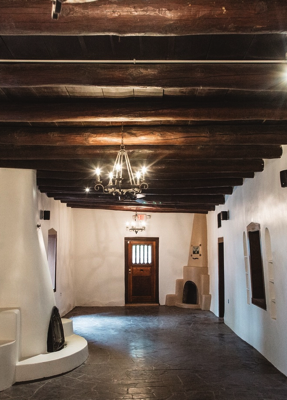 Casa Vieja Event Center, 4541 Corrales Rd.

Preview Gallery Open to Public
Friday Sept 10th, 1:00pm - 4:00 pm
Saturday-Sunday, Sept. 11th, 12th
10:00am - 5:00pm
CAST Dates
Reception: Friday Sept 10th
Studio Tour: September  11th, 12th
Times: 10am - 5:00pm