CSA, with its 100-plus member artists, is a federal and state 501 (c)(3) non-profit organization. Members are juried in from all over the state of New Mexico and are full-time and part-time artists from all walks of life exploring their creative spirit and everything in between. Some CSA members have been perfecting their skills their entire lives while others are just beginning their journey into the arts.
News
Cover Art Selected for CAST
A Cover Art image has been chosen for the 2022 CSA Corrales Art Studio Tour.  It is an acrylic painting, Raven & Red Chiles, by CSA member and artist, Victoria Mauldin.  Congratulations Victoria!  There were 26 entries providing for lengthy discussion to narrow the many outstanding images down to one.  While Victoria's artwork will be the primary branding image for this year's CAST, many of the other submissions will be used to provide graphics to promote CAST and to give exposure to other artists. Thanks to all who participated!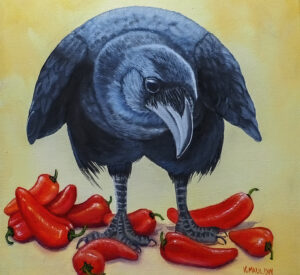 President's Message - June 2022
Happy Summertime Everyone,
I hope everyone is doing well and staying healthy.  Several weeks ago, I tested positive for COVID.  I was lucky - having only symptoms much like a head cold and testing negative on Day 6.  I'm grateful for the vaccine and antiviral I was able to start right away. COVID continues to be with us along with all its challenges and uncertainties. With the recent increase in cases, it appears we must all stay diligent in staying healthy.  I wish my good fortune to everyone. Read more
Featured Artist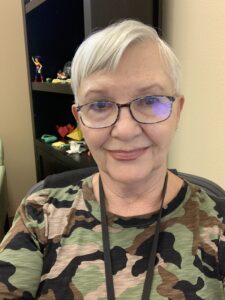 Martha Rajkay
Born in Hungary I come from a family of artists. I have a Bachelor of Fine Arts degree, Masters in Art Therapy and Masters in Social Work. I have been a photographer, commercial graphic artist and painter for over 50 years.
Thank You To Our Sponsors
The Corrales Society of Artists appreciates the generous support provided by local businesses and art patrons. The Corrales Art & Studio Tour, First Sunday in Corrales, Art in the Park, the Corrales Fine Arts Show and the Winter Crafts Show bring thousands of visitors and wide-ranging benefits to the Village. The success of these events is highly contingent on this large community of businesses and sponsors. Thank you!