CSA, with its 100-plus member artists, is a federal and state 501 (c)(3) non-profit organization. Members are juried in from all over the state of New Mexico and are full-time and part-time artists from all walks of life exploring their creative spirit and everything in between. Some CSA members have been perfecting their skills their entire lives while others are just beginning their journey into the arts.
News
Cover Art Selected for CAST
A Cover Art image has been chosen for the 2022 CSA Corrales Art Studio Tour.  It is an acrylic painting, Raven & Red Chiles, by CSA member and artist, Victoria Mauldin.  Congratulations Victoria!  There were 26 entries providing for lengthy discussion to narrow the many outstanding images down to one.  While Victoria's artwork will be the primary branding image for this year's CAST, many of the other submissions will be used to provide graphics to promote CAST, and to give exposure to other artists.
Thanks to all who participated!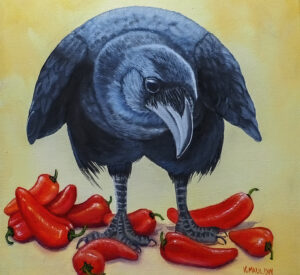 From Victoria's CSA Profile Page...
" A storyteller by nature, Victoria Mauldin's Contemporary Realism artwork includes traditional Western art, and an emerging series called "Imaginative Realism".
Working primarily in acrylics, Mauldin's paintings remain deeply rooted in the Southwest Culture as she provides a "close encounter with nature's wonder and perfection. The Imaginative realism paintings stretch the boundaries of reality as we know it, and often go beyond story telling by evoking inquiry and interpretation from the viewer."
Featured Artist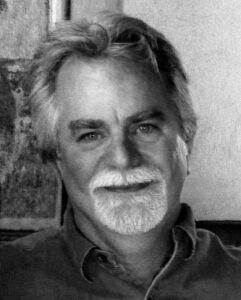 Roger Green
I have explored the concept of abstraction and its relationship to the landscape in a series called AbScapes. By shifting the narrative from realistically representing a mirror image of nature, to visually create a feeling of it–I hope to create the concept of a landscape, rather than a rendering of the landscape itself.  Through random gestural marks, colors, and forms that align in ways suggestive of clouds and horizons, I can achieve freedom from objective context and portray the abstracted landscapes of my imagination. Read more
Thank You To Our Sponsors
The Corrales Society of Artists appreciates the generous support provided by local businesses and art patrons. The Corrales Art & Studio Tour, First Sunday in Corrales, Art in the Park, the Corrales Fine Arts Show and the Winter Crafts Show bring thousands of visitors and wide-ranging benefits to the Village. The success of these events is highly contingent on this large community of businesses and sponsors. Thank you!