CSA, with its 100-plus member artists, is a federal and state 501 (c)(3) non-profit organization. Members are juried in from all over the state of New Mexico and are full-time and part-time artists from all walks of life exploring their creative spirit and everything in between. Some CSA members have been perfecting their skills their entire lives while others are just beginning their journey into the arts.
News
2022 Corrales Art Studio Tour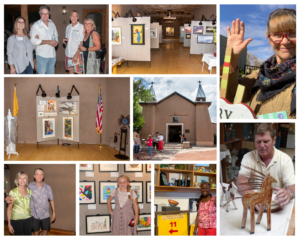 One of the largest and best Corrales Art Studio Tours (CAST) has just concluded with artists reporting record numbers of visitors and sales.
The Tour featured 80 artists, four galleries and artwork from 50 students from Corrales Elementary and Cottonwood Montessori Schools.  We also celebrated the life and contributions of Pauline Eaton, the founder of CAST and Corrales art community treasure.  Her works have been shown and sold across the U.S.  Pauline died this past year, and we were proud to take time to acknowledge her work and her profound influence on the Corrales art community.
It was great to have student art back as part of the Preview Gallery display.  Comments from visitors were very positive.  It was most enjoyable to see students proudly bring their families to the Preview Gallery to see their work.  Creative expression through art is powerful and a big factor in the quality of life.  CSA is happy to work with students in our local schools.
CAST is supported by many Corrales residents and local businesses.  We enjoy strong sponsorship from local businesses year after year.  They have been very important to our success, and we value and appreciate our relationships with them.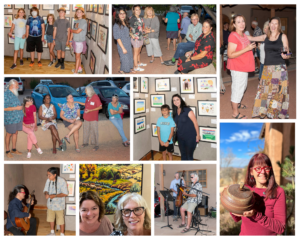 We have two more art shows coming up soon.  The Old Church Fine Art Show will be held at the historic Old San Ysidro Church from October 1-9.  The Winter Craft Show will be held on December 2-4, also at the Old Church.  CSA co-sponsors these shows with the Corrales Historical Society.  Admission and parking are free.  Each show usually features the artwork and crafts from over 30 artists and have been well received for more than 30 years.
Visitors are invited to come see great art and enjoy the incomparable hospitality of Corrales.
Corrales Arts, Community, Education Center
Mayor Jim Fahey's community arts center Task Force has been busy with weekly meetings.  CSA and the art community are well represented on the Task Force.  A preliminary report of recommendations was made to the Parks and Recreation Commission recently.  The Commission enthusiastically and unanimously supported its work.  A presentation to the Village Council is planned for September 27.  The site for the ACE Center is the Jones' home property next to the Village Recreation Center and Pool.
The Task Force is recommending "Corrales Arts, Community, Education Center" (ACE Center) as a preliminary name for the center with the intent of engaging the community in a contest to give the Center a permanent name during construction.
Recommendations at this point provide for a theater/assembly room with seating for an audience of up to 256 people to accommodate various functions.  Art will dominate the theater intermission area and adjacent art gallery.  Classroom/meeting rooms and additional gallery space are planned.  An underlying principle guiding recommendation is creating a versatile, multi-use facility.  A catering kitchen will be located adjacent to the gallery/reception area, and an office will provide space for business operations and a base for community organizations.
While funding for the project doesn't exist at this point, planners are optimistic that the popularity of this project will attract sufficient public/private financing.
There may be a role for CSA to play in the management of art displays in the Center.  It would a new direction for CSA and will require careful and detailed consideration and planning.
Featured Artist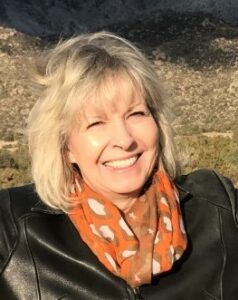 Featured Artist – Beth Larsen
I love exploring the expression of thoughts, experiences, and place through abstract paintings. Color, shapes and paint help me communicate when words fall short. The process of art-making is blissful and fulfilling, challenging and exciting.
Thank You To Our Sponsors
The Corrales Society of Artists appreciates the generous support provided by local businesses and art patrons. The Corrales Art & Studio Tour, First Sunday in Corrales, Art in the Park, the Corrales Fine Arts Show and the Winter Crafts Show bring thousands of visitors and wide-ranging benefits to the Village. The success of these events is highly contingent on this large community of businesses and sponsors. Thank you!