Featured Artist: Sue Ellen Rael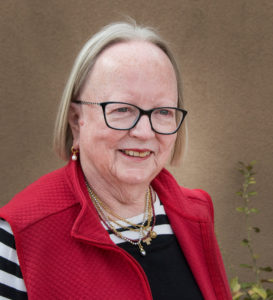 Describe your primary medium and explain why you've chosen it for your artwork.
I work in egg tempera in a technique derived from the Russian Orthodox method of writing icons. Layers of floats (watery paints) alternate with layers of un- or little diluted paints. Since each layer is a unique mix of pigments, I prepare only enough dry pigment and egg emulsion to complete a layer.
Egg tempera has been the traditional medium for icons dating from a few centuries CE to the present. It developed somewhat concurrently with the use of encaustic (both cold and hot wax versions) which was used in the Hellenistic period in Egypt for mummy portraits.
I also use 23 and 24 karate gold leaf for halos and occasionally backgrounds. It is applied to a base of a mixture of red clay, rabbit skin glue, and water that is allowed to dry; It is then sanded and burnished with a hematite or agate burnisher, and finally, the gold leaf is applied.
While some iconographers today use acrylic, I prefer egg tempera because of the luminosity it provides.
When did you start working with oils? How did you get introduced to this medium?
In 2004 I was searching for a way to express my spirituality other than through writing. I took my first classes in iconography at my church, beginning that summer. This was my introduction to egg tempera. Initially, the instructor mixed the paints for the students using traditional recipes that usually combine several pigments for a particular color. Gradually, I learned to mix them and, within a year, had begun purchasing pigments, mixing the paints, and painting on my own. For the most part, I use historic pigments (ochres, siennas, umbers, hematites) and minerals (lapis lazuli, malachite, azurite). I still use the traditional recipes, tinkering, and experimenting by substituting other pigments
What other media have you used?
Since I was a child, I have been drawn to oriental art as well as impressionism, abstract and modern art. When I retired in 2002, one of my goals was to explore whether my interest and love of art could lead to becoming an artist or if it was focused more on appreciation. When I retired in 2002, I explored brush painting; then a couple of years later iconography. As I became more proficient in the use of egg tempera, I began to look at related arts like calligraphy and illumination which use some of the same materials and techniques. For further inspiration, for the past 20 years or so, I have followed the St. John's Bible Project - the first hand-lettered and illuminated Bible in modern times
As head of the liturgical arts ministry at my church, I also work in fabric, primarily appliqué and painting, creating large wall hangings (up to 10' x 12') for the sanctuary. These pieces are intended to reflect the sense of the church seasons without dictating an individual's response.
How much time do you devote to your artwork?
My ideal is to work several hours a day every day but that doesn't always happen. Life sometimes interferes. There may be weeks when I don't paint but I'm researching subjects for the preparation of sketches or cartoons that I use for future icons. When I'm working on a commission or writing icons for a show, I will work 6 - 8 hours a day.
Did you teach yourself or do you have a formal education?
I took a couple of year-long studio courses as well as a number of art history courses as an undergraduate; have taken several short workshops in drawing, color, watercolor, and brush painting over the intervening years. After my first iconography class in 2004 -05, I have taken a week-long intensive workshop almost every year since. Most of my development has been on my own through practice. I do enjoy being a student for that week each year
What is your favorite aspect of what you do?
Writing icons is a spiritual practice for me from the development of the cartoon/sketch for an image I have done before to the mixing of paint and applying it to the board. When I develop a cartoon, I immerse myself in that individual: their life, the context of the time in which they lived, how others saw them. Then, when I'm ready to paint I feel like I'm having a conversation with them. The process of painting is very soothing - gathering the jars of pigment to use, measuring them and the egg emulsion, mixing, and finally applying the paint to an area of the board; then repeating on and on. The rhythm of the process and the practice of the techniques move me into space where I'm aware of my surroundings but not really interacting with them.
What are your sources for ideas and inspiration?
I regularly look at images of icons - traditional and contemporary - and other religious art to see who is calling me to portray them. I delve into portions of scripture, such as when I did my two-part series on Genesis. Sometimes, someone will express a desire to see a particular person or event. As I work on brooding my subject matter beyond icons, I'm looking at early European works, Celtic images, other egg tempera painters, and at the world around me.
When I work on a commission, I like to incorporate elements that personalize the image for the recipient.
What obstacles do you encounter as an artist? How do overcome challenges?
Time management is my biggest challenge. I find I can easily be distracted. I'm the person who looks up a word in the dictionary (do we still look up words in a book?) and an hour later I've followed that word through its defining words, antonyms, etc. to words that aren't even related but are interesting.
Working with color and understanding the characteristics of various pigments still can be forbidding. I spend time playing with my pigments and studying what's written about color as well as just observing color everywhere I go.
Although I'm getting bolder, I still am reluctant to push my boundaries, explore new things, and be more spontaneous. I think that's one reason I have been drawn to going to Assisi this summer.
Do you know what the finished artwork is going to be when you start? Do you ever just work from spontaneous impulse?
Yes, I generally plan out an Icon before I begin working on it: creating the cartoon/sketch, writing out all the recipes layer by layer of paint, transferring the image to the board, applying the gold leaf, and then painting. I sometimes I alter the mix of pigments or add layers, depending upon what I see as I work. Egg tempera dries quickly so you can't "work" it like you can oil paint but you can apply several layers in a day.
Currently, I think my spontaneity comes in the selection of images and how they're portrayed. It is much less obvious in the actual use of the paint as I tend to follow the traditional use of colors in depicting images. For example, I wouldn't depict Mary in pink and green robes rather than the traditional burgundy and dark blue but I would put a pink lining on her burgundy robe and be very free about the way I depict the gold braid or edging and fringe.
Spontaneity is something to explore. I think I'm well grounded now in the characteristics and techniques of egg tempera so I can begin to improvise just as a musician is grounded in chords and notes and time so they can explore sounds.
Do you have a philosophy about producing art?
As I mentioned above, writing icons is a spiritual practice. The process/practice of making art is as important as the product.
In terms of the finished product, be it icon or painting, I believe that somewhere there is a person to whom it belongs. There may be a period of time (may be years) before the connection is made but it will happen.
Do you collaborate with other artists and if so, how does that happen?
Collaboration with other artists most frequently occurs when I work on fabric wall hangings at my church. There is usually a lot of discussion about a theme, what should be expressed and how, and what materials to be used. Then I usually translate that into fabric and paint.
Do you show your work commercially? If so where? Do you produce your art for a living or is it more of an avocation?
I'm not in any commercial galleries or sell my work online. I participate in the Corrales Art and Studio Tour and other Corrales Society of Artists shows. I also exhibit my work at Gallery St. Michael, a ministry of St. Michael and All Angels Episcopal Church.
What advice would you give aspiring artists entering the field?
Be gentle with yourself. It takes several years to develop the skills, techniques, and talents you need to express yourself. Being an "overnight" usually depends upon at least several years of work. Allow yourself quiet, time, and space to hear and listen to your inner voice. Define your own measures of success. But do take into account the opinions of others as you may not be as positive about your work as they are (I speak from experience!). Focus on your practice/process more than on the production.