Featured Artist: Cristina Sanchez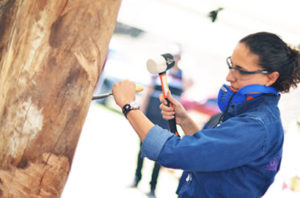 Describe your primary medium and explain why you've chosen it for your artwork.
My primary medium is sculpture in clay.  I really love combining other materials with the clay pieces to generate history and character. I chose sculpture as the main medium of my work because I can feel the strength of the volume in my hands.
When did you start working with oils? How did you get introduced to this medium?
I started working with clay 15 years ago as part of my university studies. Three years later I enrolled in a clay and ceramics workshop in Barcelona. It was there that I fell in love with the clay and the door opened to a world full of creative possibilities to make art.
Did you teach yourself or do you have formal education?
I have formal education in art from the University of Chihuahua, Mexico. I have completed art workshops in many different places including Instituto Allende in San Miguel de Allende in Mexico, La Forma ceramics school in Barcelona Spain and Brookhaven College in Dallas, Texas.  Self-taught techniques have also been a fundamental part of my work.  It is in these self-taught techniques that ideas, emotions and expression coexist in pure way. Trial and error provide solutions to problems of form and design that desire to be solved.
Have you always worked with this medium?  What other media have you used?
I began painting when I was a teenager and the focus of my formal education was painting for more than 6 years.  I continue to practice painting and drawing and that part of my artistic training is essential to my work.
How much time do you devote to your artwork?
I am a full time sculptor and dedicate as much time as possible to my work. I often find myself wishing for more hours in the day to devote to my work.
What is the most rewarding aspect of what you do?
The most rewarding aspect of doing what I do is seeing how people react to the finished piece. The majority of my pieces can be understood in many ways. Reactions to some of the pieces is often very different from one person to the next. I find it very rewarding to speak with someone who wants to share with me the emotional connection they feel to the piece.
What are your sources for ideas and inspiration?
I believe that art is a reflection of the moment in which we live.  My work is inspired by the human figure. The themes are based on the feelings and emotions of social and cultural conflicts, seen from the subjective with the influence of surrealism and magical realism.
What obstacles do you encounter as an artist?  How do overcome challenges?
The promotion and sales of art is an everyday challenge. When these obstacles appear, you need to believe in you in what you do and do it with passion, you have to be strong and not give up.
Do you know what the finished artwork is going to be when you start? Do you ever just work from spontaneous impulse?
I don't work from spontaneous impulse. I have an idea from which I begin to imagine a design that follows the basic rules of composition. During the process of creating, the idea and the design of the piece evolves. Sometimes it turns into something entirely different than I imagined. The intention of piece carries from the beginning to the end of the process, but the final piece is the result adjustments, improvements and evolution of the original idea.
Do you have a philosophy about producing art?
I do not have a philosophy about the production of art. I believe that art is a natural way humans express themselves.
Do you collaborate with other artists and if so, how does that happen?
Most recently I have collaborated with Corrales artists Diane Cutter and Susana Erling. It has been a very pleasant and enriching experience.  I enjoy collaboration with other artists because it helps me to see art and the creative process from other perspectives.
Do you show your work commercially?  If so where?  Do you produce your art for a living or is it more of an avocation?
I exhibit my pieces in Corrales Bosque Gallery and participate in various art shows and fairs in New Mexico and the surrounding area.
For me, art is not a hobby.  It is the way I choose to live my life. I make a concerted effort to make decisions that afford me the opportunity to maintain sculpting as my primary focus.
What advice would you give aspiring artists entering the field?
I believe art is the voice of the community and environment in which we live. My advice to aspiring artists is to be sensitive to your environment. Your audience is looking for pieces they can connect with consciously or subconsciously.
What else do you want to say to help introduce you and your work to our readers?
I think everything is said. The only thing I would add would be an invitation to visit my workspace and view my work.