Featured Artist: Marshall Lee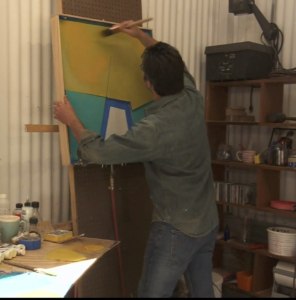 Describe your primary medium and describe why you've chosen it for your artwork.
I consider myself a mixed media artist that works primarily with acrylic on panel while incorporating a variety of different hardwoods.
When did you start working with this medium?  How did you get introduced to this medium?
I have always been painter fixated on stretching the tightest, smoothest, most well gessoed canvas. The first time I worked on panel I was drawn to how the acrylic glides across the surface and the world of possibilities that open up with the material once sanded.
Did you teach yourself or do you have formal education?
My undergraduate degree is in fine arts with a concentration on painting and sculpture.
Have you always worked with this medium?  What other media have you used?
In the past I've floated between steel sculpture and acrylic on canvas.
How much time do you devote to your artwork?
Art making plays a large role in my daily life and I hate having to choose between it and project that present themselves around the house.
What is the most rewarding aspect of what you do?
The most rewarding aspect of creating an artwork is bringing a concept that existed in my mind into the tangible world. I love it most when the viewer not only understands entirely what I am trying to communicate, but can explain exactly where the piece belongs in their home.
What are your sources for ideas and inspiration?
Like many artists that live in New Mexico I'm inspired by the landscape. New Mexico never lets me down when it comes to landscape.
What obstacles do you encounter as an artist?  How do overcome challenges?
The biggest obstacle for me as an artist is devoting time to marking myself. I wish the visual art world took place only in my studio and all I had to do was make. I'm making a conscientious effort to be a part of the arts community.
Do you know what the finished artwork is going to be when you start?  Do you ever just work from spontaneous impulse?
Typically, I work from a small scale maquette exploring color combinations and design ideas. This is where I embrace my failures and play with my pieces like a jigsaw puzzle.
What advice would you give aspiring artists entering the field?
Advice I have for aspiring artists is that if you are not having fun making your work then try a different media. If you're still not having fun acknowledge the important role you play in the art world as a patron of it.
What else do you want to say to help introduce you and your work to our readers?
My most recent series of work is based on images taken from around New Mexico. These design-oriented landscapes evoke the spirit of land through contemporary color palettes, transparently layered acrylic, and scraped through pigment. To view more works, visit studio419.org