August 2022
Featured Artist - Bill Monthan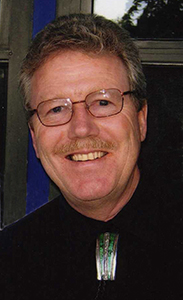 I have been admiring art since early childhood. My father was a commercial artist and photographer. My mother was an author and editor. Both were in the advertising field in Los Angeles and Beverly Hills in my early years. The crowd that they surrounded themselves with were creative artists from all mediums, including graphic arts, music and theatre. I studied many of the art mediums offered while attending Northern Arizona University (NAU). Ironically, the only area of coursework I did not focus on while at NAU was painting. After this seven-year journey of studying art, I realized I would struggle to support a family as an artist so I entered the healthcare field by studying Respiratory Care and Cardiopulmonary Medicine. My journey in healthcare took me from clinical practice to healthcare leadership over a 35-year span of time. During that time, my wife and I raised three sons.  Throughout the years in healthcare, I continued to draw and do illustrations primarily working with pastels. Once I retired from healthcare, I took painting lessons and focused on oil painting. I have been a member of the Corrales Society of Artists since 2012. I have participated in studio tours in Corrales and Alameda and also have been accepted into numerous juried shows including Corrales Fine Arts Show, Old Church Fine Arts Show, RGAA Encantada, and Masterworks.
What is your earliest memory of creating art?
While in first or second grade, I was asked by my teacher to draw a picture that explained what my father did for a living. I went to my dad's third-floor studio and I saw illustrations/drawings of high fashion women's shoes that he was working on for some ads. So, I drew a picture of a shoe cobbler making shoes and told my class that my dad repaired and made shoes for a living.
Describe your primary medium and why you've chosen it for your artwork
I'm currently working with oil paint. This slow-drying medium fits my style and the speed at which I work. I like the versatility of color mixing that oil paint offers as well as the ability to layer it for the desired effect. The oil medium allows for creative expression in imagery. Painting also challenges me as an artist where my skill struggles to keep up with my creativity and imagination.
What other media have you used?
While studying art at NAU, I focused on art history, drawing, design, sculpture, ceramics, Jewelry making, and etching.
Describe your artwork in 10 words or less
Whimsical, Surrealistic, Impressionistic, color dominant, dreamy, fantasy, and cartoon quality.
What inspires your work?
The beautiful, target-rich world we live in is inspiring in so many ways. I'm inspired by the atmospheric light, ever-changing clouds, and the reflections contrasted by shape-making shadows. One of my biggest inspirations comes from how other artists see and express beauty and create feelings with their art. I'm inspired by art that projects a timeless quality and hints at something that is beyond our current life experiences.
If you could spend the day with any artist, dead or alive, who would it be and why?
Michelangelo because he excelled in sculpture and painting. (Although my favorite period of painting was the 19th century and the impressionism period).
Do you show your work commercially?  If so, where? 
I show my work at Yucca Art Gallery in Old Town, all the Range Cafes, Sobremesa Restaurant/Brewery, and social media.
What is something most people don't know about you?
I enjoyed a competitive athletic spirit in sports throughout the 1970s, 80's, and 90's. I was an Arizona State Handball Champion, Nevada State Doubles Racquetball Champion and I coached youth soccer in New Mexico for 16 years.
What advice would you offer younger artists just beginning their art careers?
Artists of all ages entering the field should try to find a passion in a medium and subject matter. Pursue your passion as long as it continues to bring you happiness. Don't let critics discourage you from pursuing your artistic passion. Once you find your passion try to learn something every day and develop your skills. Realize that if you work hard and follow your passion that someday you will surprise yourself, and possibly many others with your incredible talent.