August 2022
Featured Artist - Pauline Eaton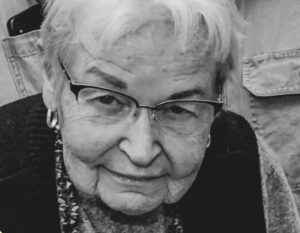 A Corrales Treasure:  Pauline Eaton, Artist, 1935-2021
Pauline Eaton's Credo as an Artist… from "CRAWLING TO THE LIGHT"
"Only one who has a personal religion, a unique view of the universe, can be a true artist. "-- Friedrich Schlegel

"The purpose of life is spiritual growth.   We are evolving souls. We participate in the on-goingness of creation.   We participate for the purpose of extending opportunities for growth in each other. We MUST participate, because this is when we are most in God's image--that of creator--that this I, why we, in turn, were created.. "
In this sense, we are all artists or called to be such.  As an artist, I believe my role is to continue making connections and 'realizing my place in the FΑΒRIC OF ALL THAT IS. --Pauline Eaton
Pauline was an artist for the world and identified with William Blake's intense belief that the spiritual and the manifest are totally entwined.  She painted to express these beliefs and for the benefit of her audience.  Pauline's paintings are in transparent watercolor, most of which are 46" x 36".  Some reached up to 5 and 10 feet tall.  Her work is striking, thought-provoking, and colorful.
We are fortunate that she and her husband, Charles, chose Corrales as their home in 1993.  In 1998, she directed the first Corrales Art Studio Tour (CAST).  Today, CAST is one of the largest and most successful studio tours in the Southwest. The Corrales Society of Artists (CSA) was formed in 2007 as Pauline and other local artists saw the need for a more formal organization and management of CAST.  Now, CSA has a membership of over130, and CAST hosts over 80 artists, local galleries, and students from 2 local schools.
Pauline died last October at the age of 87.  We are grateful for Pauline's pioneer work with CAST, CSA, and her generosity in sharing time with other local artists in promoting a world-class art community in Corrales.