Yoka Roos-Huddleston
click thumbnail for larger view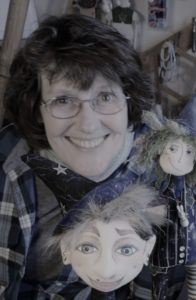 Handmade Dolls
yroos2015@gmail.com
Sewing, engineering, and design are trademarks of my family.
Textile art is my favorite medium because it incorporates everything I have been taught about fabrics, yarns, threads, fibers, and more.
My style is whimsical, and the sculpted figures are totally handcrafted.
All are one of a kind and the facial expressions are the key content of my work.
It can take up to several months to complete a figure with an intricate design or one week for a small one.
I work with paper clay, cloth, and mixed media.