June Malone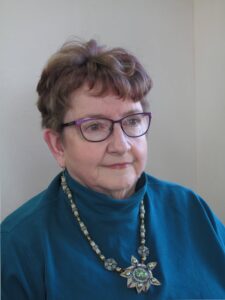 Beaded Jewelry
beader48@outlook.com
I received my Bachelor of Science in landscape architecture with a minor in art (weaving) in 1971, and in 1991 received my PhD in Counseling Psychology and worked in the Department of Veterans Affairs residential programs helping homeless, addicted, and mentally ill veterans get back on their feet.
Creativity has been a central component in my life as far back as I can remember and over the years have worked with many types of media.  I began working exclusively with beads in 1999 when I needed some jewelry to go with a new outfit.  Initially I created simple strung jewelry that matched the character and colors of my outfits. Then, I discovered Delica cylinder beads, and after retiring in 2012, began working full time creating elaborate 1-of-a-kind designs for necklaces and earrings using a wide variety of beading techniques and types of beads.
Inspirations for my designs come from a variety of everyday sources-upholstery on seats in a restaurant, a child's pinwheel toy, unusual lampwork beads and semi-precious stones, and the cultures and landscapes of the southwestern United States.  My favorite technique is single drop, odd count peyote stitch where beads are stitched in one bead at a time.  I find it particularly challenging to transform 2-dimensional images into 3-dimensional designs and am widely praised for my color selections and unique designs.  Prices for my wearable art range from $25.00-$3,500.  I sell my work at fine art shows in Arizona, Colorado, and Utah and in my studio by appointment.  Kits are available in my Etsy shop.