Lynda Burch
click thumbnail for larger view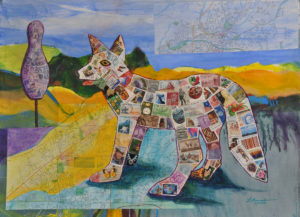 Acrylics
Mixed Media
Watercolor
Amapola Gallery
lynda@lyndaburch.com
All my adult life I have admired luscious, juicy watercolors and vowed when I could retire, I would learn this art form. Never having studied art at all, I began in 1994, not waiting until retirement. I see watercolor's magic formula as 1 part water, 1 part color, and 1 part artist's intention. I love watching the colors mix together on the paper in unexpected patterns. The mystery of the medium offers excitement as you listen to the art unfold on it's own, letting go of your control and experiencing spontaneous expressions on the paper. I am now using acrylic in the same way. Yes, I am passionate about watermedia and I hope my audience feels it also.
I like using color in a big vibrant way creating moods to set the tone of the work. Free, bold and strong are words often used to describe my art. I am constantly turned on by new challenges and love experimental methods using related water mediums such as acrylics, collage, inks and layering techniques.
I have studied intensively, both at home and abroad, with many of today's leading watercolorists. I am a Signature Member of the New Mexico Watercolor Society, the International Society of Experimental Artists, International Society of Acrylic Painters, a juried member of the Society of Layerists in Multi-Media and also a member of National Collage Society. I have been juried into many shows throughout the Southwest in the last few years.
A native of Texas, I chose to move to Albuquerque with my husband Jack in l981 and wouldn't live anywhere else. I am currently showing in Amapola Gallery in Old Town Albuquerque.