Linda Boyes
click thumbnail for larger view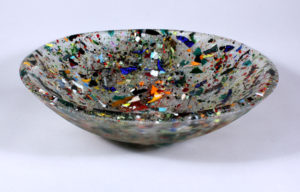 Fused Glass
Collected Hands Studio
CWaters Gallery
Taos Artist Collective
Two Old Crows
Weems Gallery
sandiahappyhiker@aol.com
Linda Robinson Boyes is a studio glass artist working in kiln-formed glass. Her love of glass has been life long. Her hands-on work began in 2009. She adjusted her Registered Nurse schedule to devote time to glasswork.
She now works and teaches classes full-time in her Albuquerque, NM studio. Also, she attends several workshops a year from renowned National Artists to learn new techniques.
Her life experiences, detail oriented background, intuitiveness, and creativity are expressed in her glass art. Her work ranges from functional bowls, dishes and platters to vessels, wall art, statues, and table art. Her style is diverse, ranging from contemporary, to Southwest, to Asian.
Locally, her work has been shown in local art studio tours, and Art shows including the Arts and Crafts festival where she was an award winner for "Best First Time Artist" in 2013, "Best work in Dichroic Glass" 2016,2017,and 2018. And Rio Grande Spring and Holiday Shows.
She's a member of Glass Art Society, and Corrales Art Society.