Lisa Epp
click thumbnail for larger view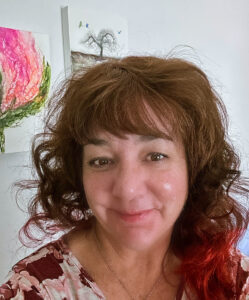 Encaustic
islandgirl_sj@yahoo.com
I have been creative since I was very young. I grew up here in Albuquerque and have always been inspired by the art, light, community and culture.
I loved photography, and went to the Columbus College of Arts and Design right out of High School. I worked as a Maternity/ Newborn Family photographer and still work on photo projects everyday.
I love to focus on all the beautiful details we often miss if we don't take the time to appreciate our surroundings!
I started working with Alcohol inks about 10 years ago, and that lead me into Encaustic Painting. I love the art of creating stories through my art and sharing the lighter side of life through imagination. I combine that with my love of nature, especially trees, and playful whimsical designs.