Corrales Art & Studio Tour (CAST)
The 25th annual Corrales Art & Studio Tour (CAST) will take place May 6th and 7th in Corrales, New Mexico. CAST is one of the largest art studio tours in the Southwest attracting 80+ local artists and visitors from throughout the Southwest. Participating artists are members of the Corrales Society of Artists. Artists show their artwork at studios and venues throughout the Village of Corrales. The Tour offers a Preview Gallery where all artists display artwork to help visitors choose which artists to visit. The Preview Gallery will be held at the historic Old Church, a beautiful location to display art. Preview Night will be held on May 4th.
---

Winter Craft Show
The Winter Craft Show is a collaboration of CSA and the Corrales Historical Society. The venue is the historic Old Church in Corrales. This will be the 34th year for this show. It will be held on December 2-4, 10:00 a.m. – 4:00 p.m. Over 50 artists and artisans participate in this show. They offer a wide variety of excellent handmade work for sale. An early call for artists is sent to all CSA members.
---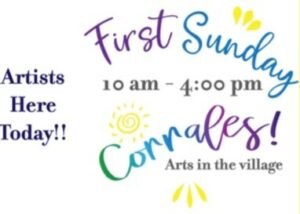 First Sunday in Corrales
The "First Sunday" in the Village is returning to Corrales. Galleries, bistros and merchants in the Village will be hosting artists on each first Sunday of the month. Artists will be able to set up tents, panels and/or table displays at merchant locations. With a strong marketing program, this will be a successful way for local artists to show their work and attract visitors to Corrales. There is no cost to artists.
Angela Gutierrez, Corrales MainStreet Director, will be directing the scheduling of artists. Artists interested in participating can contact Angela at (505) 350-3955 or via email at visitcorrales@gmail.com to reserve a space.