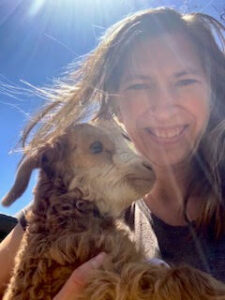 Hello, my name is Jennifer Noel, I am 43 years old and I was born and raised in Socorro NM. Both of my parents are Geologists who work at the New Mexico Institute of Mining and Technology. I imagine it was a bit of a shock to both of my parents to have a daughter who was interested in art. My earliest memory around art was on my mother's maps that she was making and my connecting the dots and then making dragons and monsters out of the river and mountains. I went on to Eastern University for my Bachelor of Fine Arts and afterward I realized that if I had a better paying job, I could buy all the art supplies I wanted, and so I went back to Nursing School at the University of New Mexico and finished with my Bachelors of Nursing. I currently work in the Newborn Intensive Care at Lovelace, I am married have 2 beautiful children, a small farm and a studio that I get out to often to create my art.
My primary medium is ceramics. I love working with the clay, the smell and the tactile feel of it. I am fascinated that fire and the elements of the earth can help transform clay into a beautiful but functional piece of art. I have worked a little with photography, watercolor, and printmaking, but ceramic stole my heart. I currently show my artwork at the Weyrich Gallery, the Range Café, and Thrive.
When people ask me about my art, I often say that "I make the pottery using glazes that are fluid, and other elements that are ash and glass." I am often inspired by art made of watercolor because of the way the colors bleed into each other. I often wish I could spend the day with an artist from Mexico Freda Kahlo, who in the 1940's who continued to find ways to paint despite the pain she experienced after an accident. She did not let her pain dampen her love for art or her creativity. My advice to younger artists who are just beginning their art career is to find something or someone who inspires them, and then to dream big, set realistic goals, and be kind to themselves.