Lee A Shepka
click thumbnail for larger view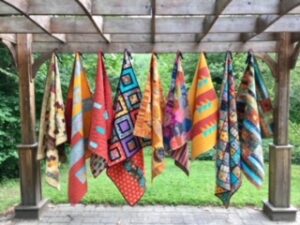 Quilt Wall Hangings
leeshepka@gmail.com
From an early age, my passion for needle and thread grew out of watching my highly skilled Mother and Grandmothers create garments.  They each taught me cherished lessons for a broad range of traditional needle arts.  As I sew, it is with them and their teachings always in mind.
I take a very thoughtful approach to pattern and color selection.  Both quilt fabric and batting materials are of high quality 100% cotton, washable and durable.  The designs that I choose range from those inspired by local flavor and enduring decorative home fashion, including youthful themes for the younger self.
With my products I hope to inspire warmth on a chilly night, a comforting cuddle on the couch, or the enjoyment of an artful wall-hanging.  I hope that my quilts will be loved, cherished and provide many years of enjoyment.