Tatyana Komogorova (Tatulli)
click thumbnail for larger view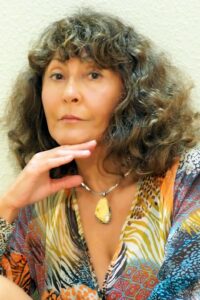 Acrylics
Oils
Yucca Art Gallery
nyakusya@gmail.com
My journey begins not that long ago when I've decided to follow my life's passion. I flew away from the reality and started painting…
All my experiences and interests, love for the nature, poetry, history, and adventure are strongly embedded in my art process.  My art is influenced by the symbolism and mysticism of Rossetti and Vrubel, as well as the primitivism   of Cézanne, Picasso, Kandinsky, and Chagall's fauvism.
I am interested in light, color, symbols, composition, perception of the moment, atmospheric feelings and not so much about realistic depiction. I use oil, acrylic, and palette knife to create fusion images of real life and dreams in Alla Prima technique. In my art, I am searching for freedom, feminine energy, existential truth about life, beaty, power of kindness and happiness of all beings in this world.
I studied with world renowned artist Elena Goubar from Switzerland and am proud to be a part of her apprenticeship group in Europe, Canada, and the United States.
I enjoy active, diverse, and vivid life in New Mexico, being part of the colorful, talented, and friendly art community. I am a former member of the Matrix Fine Arts Gallery and current member of Yucca Art Gallery in Albuquerque, New Mexico, and my works are on display there. I am also a member of Corrales Society of Artist and Rio Grande Art Association.
I regularly participate in juried exhibitions, such as! Encantada!  show in the fall of 2019 and 2022, New Mexico State Fair 2018 art show, Corrales Old Church show in October,2022, as well as numerous arts shows at the Los Alamos Art Center Fuller Lodge, the New Mexico Art League, and OT Circus Gallery in Albuquerque.
My painting "Fishermen" at Fuller Lodge received a special visitor recognition in the spring of 2019 and was later sold to a private collection in Nice, France.
I was invited to a retrospective exhibit "One of Six" for emerging artists of New Mexico in January 2020, after receiving a special recognition by the Los   Alamos Art Council.
I had two solo exhibit "Exhilarating Flow" happened in November of 2020 at the OT Circus Gallery and  "Journeys waiting" at Matrix Fine Art Gallery in   June of 2021.
I was invited to participate in "Art of Healing" exhibition at the New Mexico Cancer Center and sixteen of my works were on display there until end of February 2022 and still available online for sale.