Denise Elvrum
click thumbnail for larger view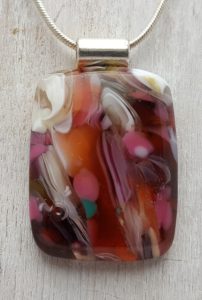 Fused Glass
Galeria de Corrales
glass.fiber1@gmail.com
Using the geology education I received at New Mexico Tech, I strive to create things that have the look and feel of geology – whether it's what I see driving down the road, or what one can see under a microscope. I am currently working on ways to create pieces of jewelry that look like stone, and am working on translating that technique into functional pieces for the home. Involving chemical reactions between the colors of glass and various metals (silver, bronze, copper, etc.), it is always a treat to open my kiln and see what happened overnight!
Another source of inspiration comes from the desert shapes, plants and colors and especially the sunsets I see from our home in Placitas. Using layers of glass melted together and then cut into pieces and re-fired, I am working to create pieces that reflect the beautiful southwest landscape.
The techniques I use vary, from making pattern bars and pot melts and then cutting them up for use in other pieces, to using the chemical properties of the glass to get a reaction with silver foil, copper leaf and other colors of glass.