Featured Artist: Victoria Maulding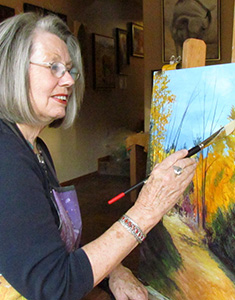 Describe your primary medium and describe why you've chosen it for your artwork.
I work almost exclusively in acrylics. I have gravitated to acrylics as my preferred medium because they work well with my style of painting, which is often light to dark, light to dark, many layers of thin paint to accomplish the fur, feathers, etc which are a part of much of my paintings and the ability to paint for long periods, layering and keeping the colors true.
When did you start working with this medium? How did you get introduced to this medium?
As a teenager, I learned to paint in oils. During college, I was introduced to Acrylics and spent many years using either oil or acrylics depending on which one seemed most appropriate to the style and subject matter.
Did you teach yourself or do you have a formal education?
I took my first art class as a freshman in college and continued with as many art classes as I could schedule while working on a degree in education. Even in graduate school, electives were always ART. Also years of workshops, classes, retreats and painting groups.
Have you always worked with this medium? What other media have you used?
Over the years I have worked in watercolor, oils, water-based oils, and acrylics. While I enjoyed the special challenges of each media, the acrylic works best with my style of painting, brush strokes, layering style, and cadence of painting.
How much time do you devote to your artwork?
Artwork is a daily part of my life. I am involved in some aspects of the process from design, planning, research to execution and can spend 5-7 hours on a "good paint" day.
What is the most rewarding aspect of what you do?
I feel intimately connected to the space and subject matter of a painting when I
finish a piece. I am humbled by patrons who tell me that my paintings bring them daily joy.
What are your sources for ideas and inspiration?
The beauty that surrounds me, and most recently dreams and my imagination.
What obstacles do you encounter as an artist? How do overcome challenges?
Painting offers challenges that are always exciting. I may do a study if I need to learn something before jumping in, but sometimes accidents become happy surprises.
Do you know what the finished artwork is going to be when you start? Do you ever just work from spontaneous impulse?
That depends on whether it is a story I am telling, or something from the imagination. I usually have a concept in mind, sometimes it is vivid and sometimes it is just an idea, a feeling, that I want to express. I love both telling a story you "get" right away and also sparking inquiry.
Do you have a philosophy about producing art?
Paint what is beautiful and make it as beautiful as nature has made it in order to give the viewer joy.
Do you collaborate with other artists and if so, how does that happen?
I have been fortunate to spend many years in artists' groups, classes and workshops and maintain many of those relationships for decades.
Do you show your work commercially? If so where? Do you produce your art for a living or is it more of an avocation?
I show my work at two galleries, Corrales Bosque Gallery, and Dragonfly Blue Gallery in Taos. I do local large venue shows like Masterworks, CAST, other area venues. I produce my art for my soul and consequently it occupies more importance, space and time in my world than an avocation.
What advice would you give aspiring artists entering the field?
The advice I give aspiring artists ranges from basic information regarding materials, techniques, to the most important thing I can say "PAINT, PAINT, AND PAINT!"
What else do you want to say to help introduce you and your work to our readers?
I paint the beauty that abounds in this world. Sometimes it is a simple story being told, like a portrait of a beautiful horse, or sometimes it has an imaginary quality to it with the beauty of nature painted into it. In either case, my goal is to connect on an emotional level to the viewer.