MAY 2022
Featured Artist - Roger Green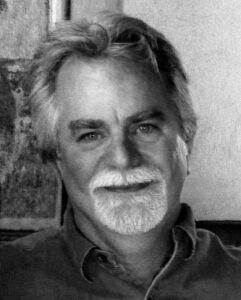 Please introduce yourself and describe your background
My initial emotional and cultural influences began as I was growing up on the North Side of Chicago. I lived in a nest of apartment buildings laced with narrow gangways and ever-rising brick walls, that kept the world out and my creative imagination in.
As a teenager, my oasis from this urban maze was in the form of a unique Art Major program at the Nicholas Senn Academy. Where I was mentored by Elliot Balter and Elliot Jacobson, both respected instructors at the Art Institute of Chicago. Their introduction to the world of art and its history, along with my attendance at the Chicago Academy of Art, was to stimulate a life-long interest in the creative act.
My journey into the creative fray began when I worked for two of the world's largest advertising agencies, where I was to become a Creative Director/ Vice President. There I created and produced award-winning television and print campaigns for nationally known brands. I have received many awards for creative excellence–including a Lion de Argent at the Cannes Film Festival, France; a Gold Medal from the International Film and Television Festival, New York; a Gold Medal from the Hollywood International Film Festival; and three Clio Awards for Creative Excellence.
During this time I was also exploring my own creative artistic processes–large-format Abstract Expressionistic canvases with great attention given to surface treatment and textural effects. My first one-man show at the Claussen Gallery was a success and led to additional solo exhibits in the greater Chicagoland area.
I also taught Graphic Design at the Illinois Institute of Art and was a member of the Art Curriculum Advisory Board there. I was a guest instructor at the Lake Forest Graduate School of Management and the Ray Vogue School of Design.
I have explored the concept of abstraction and its relationship to the landscape in a series called AbScapes. By shifting the narrative from realistically representing a mirror image of nature, to visually create a feeling of it–I hope to create the concept of a landscape, rather than a rendering of the landscape itself. Through random gestural marks, colors, and forms that align in ways suggestive of clouds and horizons, I can achieve freedom from objective context and portray the abstracted landscapes of my imagination.  While this AbScapes series seeks to create images that are different and unique, there is always a subtle familiarity. It is this intrigue of the unusual and familiar, that can capture our attention and allow for a variety of personal visual interpretations.
What is your earliest memory of creating art?
When I was about five years old, my mother gave me a paint-by-numbers canvas that was a picture of a horse. I filled in each shape with the appropriate color number of oil paint and really enjoyed it…I still have it.
Describe your primary medium and why you've chosen it for your artwork
I work in acrylics mainly because they dry fast and I like the intensity of the colors.
What other media have you used?
Interior house paint.
Describe your artwork in 10 words or less
My paintings are expressive, gestural and have a simplistic elegance.
What inspires your work?
I live in the Sandia foothills and every day I see the ever-changing skies and horizon…it's very inspiring.
If you could spend the day with any artist, dead or alive, who would it be and why?
Willem de Kooning. I love the emotional gestures of his work and respect the fact that he was one of the pioneers of Abstract Expressionism.
Do you show your work commercially?  If so, where? 
I have exhibited at the Weyrich Gallery, FreeStyle Gallery, and South Broadway Cultural Center…all here in Albuquerque. I've also shown my work at the Santa Fe Arts Community Gallery.
What is something most people don't know about you?
I collect vintage pressed steel toys from the 20's and 30's.
What advice would you offer younger artists just beginning their art careers?
I think the most important thing is to remain a child when you create and let yourself play. The result will be work that is original and truly represent who you are.