Tricia Simmons
click thumbnail for larger view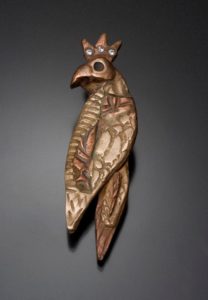 Encaustic Mixed Media
Jewelry
WildLilyStudio@gmail.com
My Encaustic/mixed media pieces reflect my interest in the natural, phenomenal world. They are often 3 dimensional with added natural or found material, and tell a story – and often asks a question.
My studio is a place I love to go to every day. While I often plan what I'm going to do, more often it is spontaneous and the outcome unpredictable.
The jewelry I make is from fine silver clay paste ( PMC or Art Clay Silver) painted on natural materials and base metal clay- steel, bronze, copper- rolled, textured or formed into architectural, pictorial or pod like pieces
I also make encaustic pendants by pouring colored encaustic medium into a bezel, and then carving, texturing, and/or adding vintage images, collage elements or cz's or gems.
Growing up in Chicago gave me many opportunities to collect natural materials while rollerblading along the lakefront, or walking in the forest preserves. I moved to Albuquerque, NM in 2006 and live with my husband Andrew, 2 dogs Lola & Ozzie, and a colony of 15 neighborhood/feral cats, one of them "Fluffy" being featured in the Corrales article listed on my website.