Molly Mooney
click thumbnail for larger view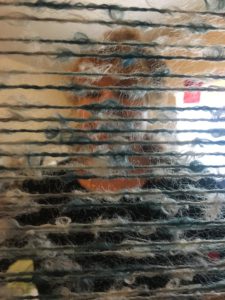 Fiber
Yucca Art Gallery
mollymooney@ymail.com
On a whim and needing to fulfill a college elective requirement, I enrolled in a textile arts class. This course covered everything from yarns and fibers to embroidery and needlework techniques, batik, tie dye as well as printmaking. I became hooked on weaving. My earliest days on a small table loom, inkle loom, and tapestry loom evolved into my current interest in continuous strand weaving. The continuous strand weaving method is a unique way of weaving in which the loom "dresses" itself as the weaving progresses.
In 2000, a move across the country to Albuquerque, New Mexico marked the beginning of a new life chapter. It allowed me to return to my weaving roots. We live in such a rich landscape that evokes awe and inspiration. Kumihimo and circular weaving as well as the continuous strand weaving method allows me a great deal of creative freedom. It is very satisfying to see the yarn colors, threads, fibers, beads, bells, buttons, coins and even tree branches come to life.
I am a member of Las Aranas Spinners and Weavers Guild and the Espanola Valley Fiber Arts Center. My woven items can be seen at the Yucca Gallery in Old Town.