Elaine Bolz
click thumbnail for larger view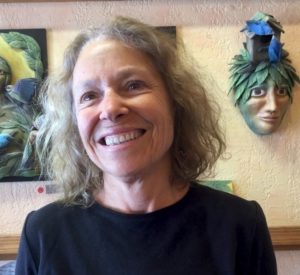 Acrylic Painting
Ceramics
claywork1@earthlink.net
I was born in Cleveland, Ohio. I received a BFA degree from
Ohio Wesleyan University with a major in painting, and then studied
and worked in ceramics for five years in Seattle, WA. After that I had
a studio in Massachusetts for ten years and then moved to New Mexico
in 1987 where I have had my studio and small gallery in Corrales, NM.
I have had my work represented in galleries and in invitational and
juried shows nationwide for over 35 years. I have been creating and
installing custom tile pieces for over 15 years.
My ceramic pieces are slab-built and sculpted from white clay.
They are airbrushed and painted with underglazes and glaze and fired
at least 3 times. Currently, my paintings are done with acrylic on
board.
I use forms and imagery from nature, including the human
figure, which I adapt to fit my needs and whims, and I have a love of
color, texture and detail. My goal is to create sculptural work in
which the natural world is viewed as marvelous and beautiful, as
something to be honored and protected. My desire is to produce pieces
that have beauty, fantasy, and an element of soft surprise.