CSA, with its 100-plus member artists, is a federal and state 501 (c)(3) non-profit organization. Members are juried in from all over the state of New Mexico and are full-time and part-time artists from all walks of life exploring their creative spirit and everything in between. Some CSA members have been perfecting their skills their entire lives while others are just beginning their journey into the arts.
Call for CAST members is coming up!  If you want to be included you must be a current member or juried in by the end of November 2023. If you miss the November deadline, we will restart jurying new members early January 2024. If you jury in after November 2023, you may not be eligible for the spring Corrales Art Studio Tour (CAST)  unless a space becomes available.
News
President's Message
2022 was filled with challenges and amazing success for CSA   We seated a new Board of Directors in January, reconstituted our committees, and normalized operations.  We had the most successful CAST in anyone's memory, added a record number of new members and will start the new year with about a third of our leadership team being new members.  And we had a lot of fun working together.
A lot of people made the successes possible.  That's the way successful organizations work.  Many, even new members, stepped forward to help out.  I want to thank all those who pitched in to get CSA on track and moving forward to constructively support our members and promote the art community in the Village.
The Village will soon be designated as a New Mexico Art and Culture District.  A new performing arts center is being planned.  We also made a wonderful discovery this year when we joined with several other local organizations, Corrales MainStreet and Village officials, to investigate leasing property for an art center where CSA would manage a co-op gallery.  We found strong interest and support from members in the concept.  Although discussions on leasing the property failed, the partners are ready to move forward again if a desirable property becomes available. Read more
Winter Craft Show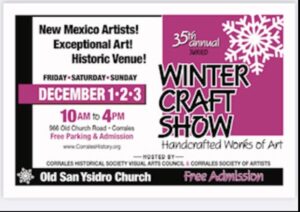 Featured Artist
David Pagani
I work primarily in charcoal for drawing and oils for painting. Given my background in commercial art using digital imaging software like Photoshop and 3d programs, I sometimes employ these tools in support of my drawings and paintings.
Thank You To Our Sponsors
The Corrales Society of Artists appreciates the generous support provided by local businesses and art patrons. The Corrales Art & Studio Tour, First Sunday in Corrales, Art in the Park, the Corrales Fine Arts Show and the Winter Crafts Show bring thousands of visitors and wide-ranging benefits to the Village. The success of these events is highly contingent on this large community of businesses and sponsors. Thank you!