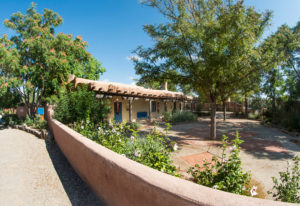 The theme is appropriate - "Pop Up Treasures". It's a fitting description of the format for the one-day Arts Alive! event. The upcoming Arts Alive! in Corrales will be April 7 (1:00 – 5:00 p.m.) Restaurants, galleries and shops will be open with special bargains for visitors. Wineries will be also be offering a tasting of their excellent local wines.
The Corrales Society of Artists is proud to support Pop Up Treasures. 14 CSA artists will display their work at the historic Casa Vieja Event Center. They will show their work and be personally available to discuss art and their work in particular. Displayed art will include paintings, photography, pottery, fiber art, jewelry, fused glass and metal sculpture. Artists include Sylvia Gormley, Lauren Deyo, Linda Dillenback, Urey Lemen, Cheryl Cathcart, Renee Gentz, Myra Gadson, Terri Garcia, Linda Boyes, Liz Roberts, Dave Sabo, Justin Kirby, Pat Kirby and Ken Duckert. Small and large scale work will be on display, something for every budget.
This Casa Vieja art exhibit will actually be a two-day weekend event and will include Saturday, April 6, 3:00 – 8:00 p.m.
Casa Vieja is a lovely, historic New Mexican adobe. It is the perfect venue to check out art. Built in the 18th century, Casa Vieja is Albuquerque's premier historic event space. Casa Vieja was originally used as a home by Salvador Martinez on land purchased as part of the Alameda Land Grant from Juan Gonzales Bas. It's been beautifully restored by Linda, Gary and Maria Socha. Gary recently introduced several craft beers brewed on site and Casa Vieja is now open to the public on Thursday – Saturday, 5:00 – 8:00 p.m. Gary's six craft beers, selected New Mexico wines and food will available during the exhibit
This will be the most enjoyable time for visitors. Casa Vieja is located at 4541 Corrales Road, Corrales.
http://www.casaviejaevents.com/
This slideshow requires JavaScript.