Karen Urbielewicz
click thumbnail for larger view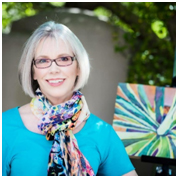 Watercolor
Corrales Fine Arts
karenucpa@gmail.com
I have a love-hate relationship with the medium of watercolor. It brings such light and freshness to a painting AND can turn a color to total mud in a minute. In a way, it is much like life- "good one minute and bad the next".
My painting subjects range from animals and still life compositions to landscapes.
I like to bring out the personality of an animal whether grumpy, calm, or making you laugh with its antics.
I strive to create still life paintings that are calming collections of favorite items.
Landscapes speak to me in a language of changing seasons and light that bring back memories and infuse the viewer with emotions
My goal is to create art to live with. To bring calm, happy, and comforting emotion in the viewer.