Susana Erling
click thumbnail for larger view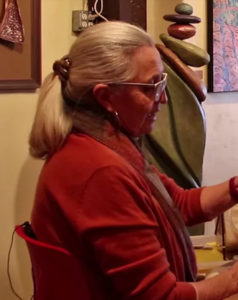 Fiber Art
Corrales Fine Arts
corralesfinearts@outlook.com
When I find myself with a piece of paper and masking tape in my hands, some form of figure sculpture will subconsciously emerge. I love paper, any kind of paper, for its strength as well as its fragility, malleability, and its forgiveness. The forms just flow from my hands and, with paper, changes in size or form can easily be made.
My figures vary in size from three or four inches to life size; some may be in relief and others may be sculptures in the round.
In 2003 I returned to the city of Punta Arenas, Chile, on the Straights of Magellan, where I spent 16 years of my childhood playing among wind twisted evergreen trees draped with heavy gray moss. During this visit I was obsessed with photographing the dead weathered wood entangled among the evergreen trees. I realized, then and there, where the original inspiration for my paper sculptures came from, my childhood.
The armatures for the figures are constructed of newspaper, masking tape and wire armature. The outer cover is papier mâché using a variety of papers, beading, and acrylic paints. 
I am presently retired from teaching sculpture in the Chicago Public Schools and Gallery 37, Center for the Arts and settled in my studio. I am now a full time sculptor living and exhibiting in Corrales and Santa Fe, New Mexico.